Klik hier om terug te gaan naar het overzicht van alle soorten op de pagina: Vleermuizen van Nederland.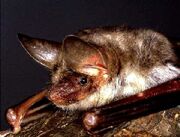 Korte Beschrijving
Edit
De Vale vleermuis is een grote vleermuis, met een gewicht van 28 tot 40 gram [1]. Vooral door de binnenrand van het oor, dat naar buiten is gebogen, is deze soort herkenbaar. De vacht is licht grijsbruin, en de vleugels zijn groot en breed (figuur 1) [1].
Voorkomen
Edit
Binnen Nederland wordt deze soort alleen nog in het zuiden van Nederland gevonden. [1+2].
De soort komt voornamelijk voor in een open landschap met bomen en parken, met daartussen velden en weilanden. Ook is hij jagend geobserveerd tussen gebouwen [2]. Zomers verkiezen ze kasten, holle bomen en groten om in te verblijven, terwijl in de winter ze voornamelijk grotten verkiezen [1].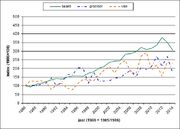 Populatie
Edit
Tijdens de wintertellingen lijken de aantallen wisselend, echter er is een licht stijgende trend waar te nemen. (figuur 2) [3].
[1]: Internetbron <http://www.vleermuis.net/vleermuis-soorten/ingekorven-vleermuis> Geraadpleegd 15-01-2015
[2]: Internetbron < http://vleermuizen.be/IngekorvenVleermuis.html> Geraadpleegd 15-01-2015
[3]: Internetbron <http://www.zoogdiervereniging.nl/nem/wintertellingen> Geraadpleegd 15-01-2015
Ad blocker interference detected!
Wikia is a free-to-use site that makes money from advertising. We have a modified experience for viewers using ad blockers

Wikia is not accessible if you've made further modifications. Remove the custom ad blocker rule(s) and the page will load as expected.