Klik hier om terug te gaan naar het overzicht van alle soorten op de pagina: Vleermuizen van Nederland.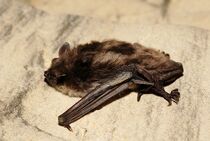 Korte Beschrijving
Edit
De Meervleermuis is een middelgrote vleermuis, met een gewicht van 14 tot 20 gram [2]. Hij is te herkennen aan zijn grote neusknobbel, welke andere Myotis soorten niet hebben. De vacht is grijswit met een donkere ondervacht, de oren en vleugels zijn rood tot grijsbruin (zie figuur 1) [1+2]
Voorkomen
Edit
De soort komt in midden- en oost- Europa voor. Binnen nederland komt hij voornamelijk in het westen en noorden voor, in de laagveen gebieden [1+2].
De naam zegt het al, deze soort is rond open water, plassen, kanalen en rivieren. Vaak heeft het een verblijfplaats binnen een straal van 10 tot 20 kilometer van water [1]. De gebieden voor rond het water zal bestaan uit weiden en bossen [2]. In de zomer verblijven ze in spouwen, holle bomen en vleermuiskasten, terwijl ze in de winter in groeven en kelders verblijven [2].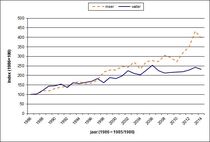 Populatie
Edit
Deze soort wordt als zeldzaamste soort binnen Europa beschouwd, en is daarom als doelsoort binnen Natura 2000 opgenomen. De populatie wordt geschat op rond de 10.000 exemplaren binnen Nederland. Tijdens de wintertellingen lijken de aantallen gestaag toe te nemen (figuur 2) [3].
[1]: Internetbron <http://www.vleermuis.net/vleermuis-soorten/ingekorven-vleermuis> Geraadpleegd 15-01-2015
[2]: Internetbron < http://vleermuizen.be/IngekorvenVleermuis.html> Geraadpleegd 15-01-2015
[3]: Internetbron <http://www.zoogdiervereniging.nl/nem/wintertellingen> Geraadpleegd 15-01-2015
Ad blocker interference detected!
Wikia is a free-to-use site that makes money from advertising. We have a modified experience for viewers using ad blockers

Wikia is not accessible if you've made further modifications. Remove the custom ad blocker rule(s) and the page will load as expected.