Klik hier om terug te gaan naar het overzicht van alle soorten op de pagina: Vleermuizen van Nederland.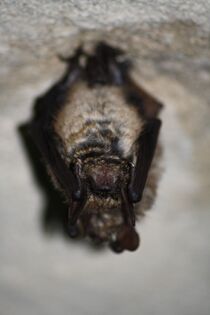 Korte Beschrijving
Edit
De Ingekorven vleermuis (Myotis emarginatus) is een middelgrote soort met een gewicht van ongeveer 7 tot 15 gram. Ze zijn te herkennen aan hun grote oren, waarvan de rand een scherpe knik naar binnen maakt. De vacht is rossig, en de snuit en vleugels zijn donker tot grijsbruin. [1]
Voorkomen
Edit
Er zijn tot heden 2 kraamkolonies bekend, welke beide in de gemeente Echt zijn gevonden [1]. In Vlaanderen zijn minstens 7 kraamkolonies gevonden [2].
Deze vleermuis komt vooral voor in gebieden met lijnvormige structuren, zoals heggen, singels en parken. Dit gebruikt hij als vaste vliegroutes om naar zijn jachtgebied te komen. In de zomer verblijft de ingekorven vleermuis in zolders van kerken en abdijen, terwijl hij in de winter verblijft in grotten en kelders [1].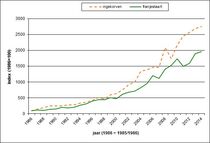 Populatie
Edit
Het aantal ingekorven vleermuizen is in recente jaren flink toegenomen tijdens wintertellingen (Figuur 2) [3]. Een verklaring is hiervoor nog niet gevonden.
[1]: Internetbron <http://www.vleermuis.net/vleermuis-soorten/ingekorven-vleermuis> Geraadpleegd 15-01-2015
[2]: Internetbron < http://vleermuizen.be/IngekorvenVleermuis.html> Geraadpleegd 15-01-2015
[3]: Internetbron < http://www.zoogdiervereniging.nl/nem/wintertellingen> Geraadpleegd 15-01-2015
Ad blocker interference detected!
Wikia is a free-to-use site that makes money from advertising. We have a modified experience for viewers using ad blockers

Wikia is not accessible if you've made further modifications. Remove the custom ad blocker rule(s) and the page will load as expected.