Klik hier om terug te gaan naar het overzicht van alle soorten op de pagina: Vleermuizen van Nederland.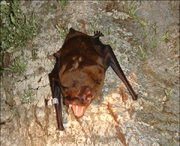 Korte Beschrijving
Edit
De Grote rosse vleermuis (Nyctalus lasiopterus) is de grootste vleermuis van het Europese continent met een spanwijdte van 410 tot 460 millimeter en een gewicht van 41 tot 76 gram (zie figuur 1) [1+2]. De vacht is meestal donkerder roodbruin. Aan de onderzijde is de vacht lichtgrijs tot gelig wit. De vleugels en oren zijn licht grijsbruin van kleur [2]. Hij is nauw verwant aan de Rosse vleermuis maar er is een duidelijk verschil in lengte, met een spanwijdte van 320 tot 450 millimeter voor laatstgenoemde [1].
Voorkomen
Edit
De soort is in Nederland slechts 1 keer waargenomen [1+2]
De grote rosse vleermuis heeft een voorkeur voor loofwoud. Hij verblijft meestal in een rotsspleet of een boomholte in de zomer, maar geeft een voorkeur voor grotten in de winter [2].
Populatie
Edit
Wordt als niet voorkomend beschouwd, omdat er nog maar 1 waarneming heeft plaatsgevonden binnen Nederland [2].
[1]: Internetbron <http://www.vleermuis.net/vleermuis-soorten/grote-rosse-vleermuis> Geraadpleegd op 15-01-2015
[2]: Internetbron <http://www.vleermuizen.be/GroteRosseVleermuis.html> Geraadpleegd op 15-01-2015
[3]: Internetbron <http://nl.wikipedia.org/wiki/Grote_rosse_vleermuis> Geraadpleegd op 15-01-2015
Ad blocker interference detected!
Wikia is a free-to-use site that makes money from advertising. We have a modified experience for viewers using ad blockers

Wikia is not accessible if you've made further modifications. Remove the custom ad blocker rule(s) and the page will load as expected.