Klik hier om terug te gaan naar het overzicht van alle soorten op de pagina: Vleermuizen van Nederland.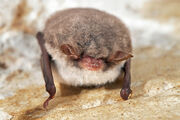 Korte Beschrijving
Edit
De Franjestaart (Myotis nattereri) is een middelgrote vleermuis met een gewicht van 5-12 gram. Hij is vooral te herkennen zijn doorschijnende oren die aan het uiteinde een beetje omhoog buigen. En de twee rijen borstelharen op de onderrand van de staart [1]. De kleur van de zijn vacht is roodbruin (Figuur 1) [2].
Voorkomen
Edit
Binnen Nederland is hij vrij zeldzaam en komt voornamelijk voor in het oosten en zuidoosten van het land [1]. Verder komen ze voor in vrijwel heel Europa [2].
Er is weinig bekend over het geprefereerde habitat van de franjestaart, al wordt hij vaak geobserveerd via een batdetector boven waterpartijen [1]. In de zomer verblijft hij in boomholtes en vleermuiskasten, terwijl hij in de winter in groeven en kelders [2].
Populatie
Edit
De hoeveelheid franjestaarten lijkt tijdens de wintertellingen gestaag toe te nemen (figuur 2) [3]. Door zijn zeldzaamheid is echter niet bekend hoe groot de totale populatie is [1].
[1]: Internetbron <http://www.vleermuis.net/vleermuis-soorten/franjestaart> Geraadpleegd 15-01-2015
[2]: Internetbron <http://vleermuizen.be/Franjestaart.html> Geraadpleegd 15-01-2015
[3]: Internetbron < http://www.zoogdiervereniging.nl/nem/wintertellingen> Geraadpleegd 15-01-2015
Ad blocker interference detected!
Wikia is a free-to-use site that makes money from advertising. We have a modified experience for viewers using ad blockers

Wikia is not accessible if you've made further modifications. Remove the custom ad blocker rule(s) and the page will load as expected.