Klik hier om terug te gaan naar het overzicht van alle soorten op de pagina: Vleermuizen van Nederland.
Korte Beschrijving
Edit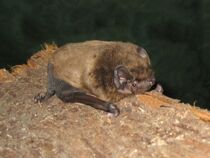 De Bosvleermuis (Nyctalus leisleri), die veel lijkt op de Rosse vleermuis maar is echter iets kleiner, is te herkennen aan zijn spitse snuit en hun roodbruine ruige haren (welke donkerder zijn dan die van de Rosse vleermuis), wat op figuur 1 duidelijk te zien is. Deze soort is middelgroot met zijn 20 gram en spanwijdte van 26 tot 32 centimeter.
Voorkomen
Edit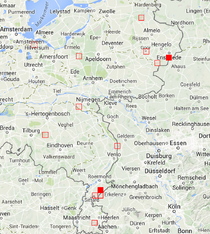 Binnen Nederland is deze vleermuis erg zeldzaam, er zijn dus ook gen aanwijzingen dat een populatie zich heeft gevestigd binnen Nederland. Incidentiele waarnemingen, welke zijn weergegeven figuur 2, zijn voornamelijk met een bat detector gedaan.
Geschikt habitat bestaat voornamelijk uit open plekken in bossen, bosranden, het liefst in een bosachtige omgeving.
Populatie
Edit
Er is geen bevestigde populatie geconstateerd binnen Nederland. ER kan dus ook niet worden gezegd of het goed of slecht gaat met deze soort. in 2013 is er echter voor het eerst geconstateerd dat dat de soort ook Buiten zuid limburg zich voorplant, op de Veluwe wel te verstaan.
1. Internetbron <http://www.vleermuis.net/vleermuis-soorten/bosvleermuis> Geraadpleegd op 25-12-2014
2. Internetbron <http://www.vleermuizen.be/Bosvleermuis.html> Geraadpleegd op 25-12-2014
3.http://www.hogeveluwe.nl/nl/over-het-park/pers/persberichten/zeldzame-kraamkolonie-bosvleermuis-in-park-de-hoge-veluwe/38619> Geraadpleegd op 25-12-2014
4.Kaňuch, Peter, Anton Krištín, and Ján Krištofík. "Phenology, diet, and ectoparasites of Leisler's bat (Nyctalus leisleri) in the Western Carpathians (Slovakia)." Acta chiropterologica 7.2 (2005): 249-257.
Ad blocker interference detected!
Wikia is a free-to-use site that makes money from advertising. We have a modified experience for viewers using ad blockers

Wikia is not accessible if you've made further modifications. Remove the custom ad blocker rule(s) and the page will load as expected.