Klik hier om terug te gaan naar het overzicht van alle soorten op de pagina: Vleermuizen van Nederland.
Korte Beschrijving
Edit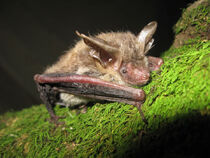 De Bechsteins vleermuis is vooral herkenbaar aan zijn oren die, in vergelijking tot andere vleermuizen van het geslacht Myotis, erg lang zijn. Dit is een middelgrote soort die maximaal 13,5 gram wordt. Zijn vacht is lang en roodachtig bruin van kleur. Zie figuur 1 voor een afbeelding van deze soort.
Voorkomen
Edit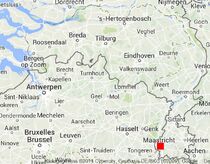 Dit is een soort die voorkomt in het gematigde klimaat van Europa, en zijn daarom zeldzaam in Nederland. Winterslapende dieren worden echter aangetroffen in de mergel groten van Zuid-Limburg. Op figuur 2 is het voorkomen van deze vleermuis binnen Limburg in kilometerhokken te zien.
Deze soort is afhankelijk van gemengde vochtige bossen, waarbinnen hij prooien van takken en bladeren afvangt. De zomerverblijfplaats bestaat meestal uit holle bomen, terwijl de winterverblijfplaats bestaat uit ondergrondse ruimtes, zoals mergelgroeves.
Populatie
Edit
Jaarlijks worden er bij de wintertellingen maar 1 tot 2 exemplaren waargenomen. Het is dus niet bekend hoe groot de totale populatie binnen Nederland is. Er wordt echter gegokt dat deze rond de 7 exemplaren groot is.
1. Internetbron <http://www.vleermuis.net/vleermuis-soorten/bechsteins-vleermuis> Geraadpleegd op 25-12-2014
2. Internetbron <http://waarneming.nl/soort/maps/374?from=2011-01-08&to=2011-01-08> Geraadpleegd op 25-12-2014
3. Verboom, Ben. Winterverblijven voor vleermuizen in Limburg. Zoogdiervereniging VZZ, 2006. Fitzsimons, Patrick, David Hill, and Frank Greenaway. "Patterns of habitat use by female Bechstein's bats (Myotis bechsteinii) from a maternity colony in a British woodland." School of Biological Sciences, University of Sussex, 22pp (2002).
4. Janssen, René en Dekeukeleire, Daan. 'Bechsteins vleermuis in limburg, indicator van oude bossen en boomgaarden'. Bionet natuuronderzoek, 11pp (2011)